Practical ideas for you to use from across the 6 pillars of effective digital marketing
Each year, for the last 10 years, or so, I have identified the latest trends in digital marketing and forecast what the major trends will be in the year ahead. The aim is to help marketers and business owners find new marketing ideas, review their budget investments and put together their plans. There's always a lot of interest as businesses consider tactics they can deploy to gain an edge by using some of the latest techniques.
This review covers the latest developments in digital marketing across the many digital marketing channels tools that businesses can use shown in the visual below based on our RACE digital marketing framework. We developed this to help businesses develop a robust approach to developing integrated digital marketing strategies across 25 key activities which we define as part of our RACE Growth System. The next figure shows common digital marketing activities across the customer lifecycle taken from my Digital Marketing: Strategy, Implementation and Practice book.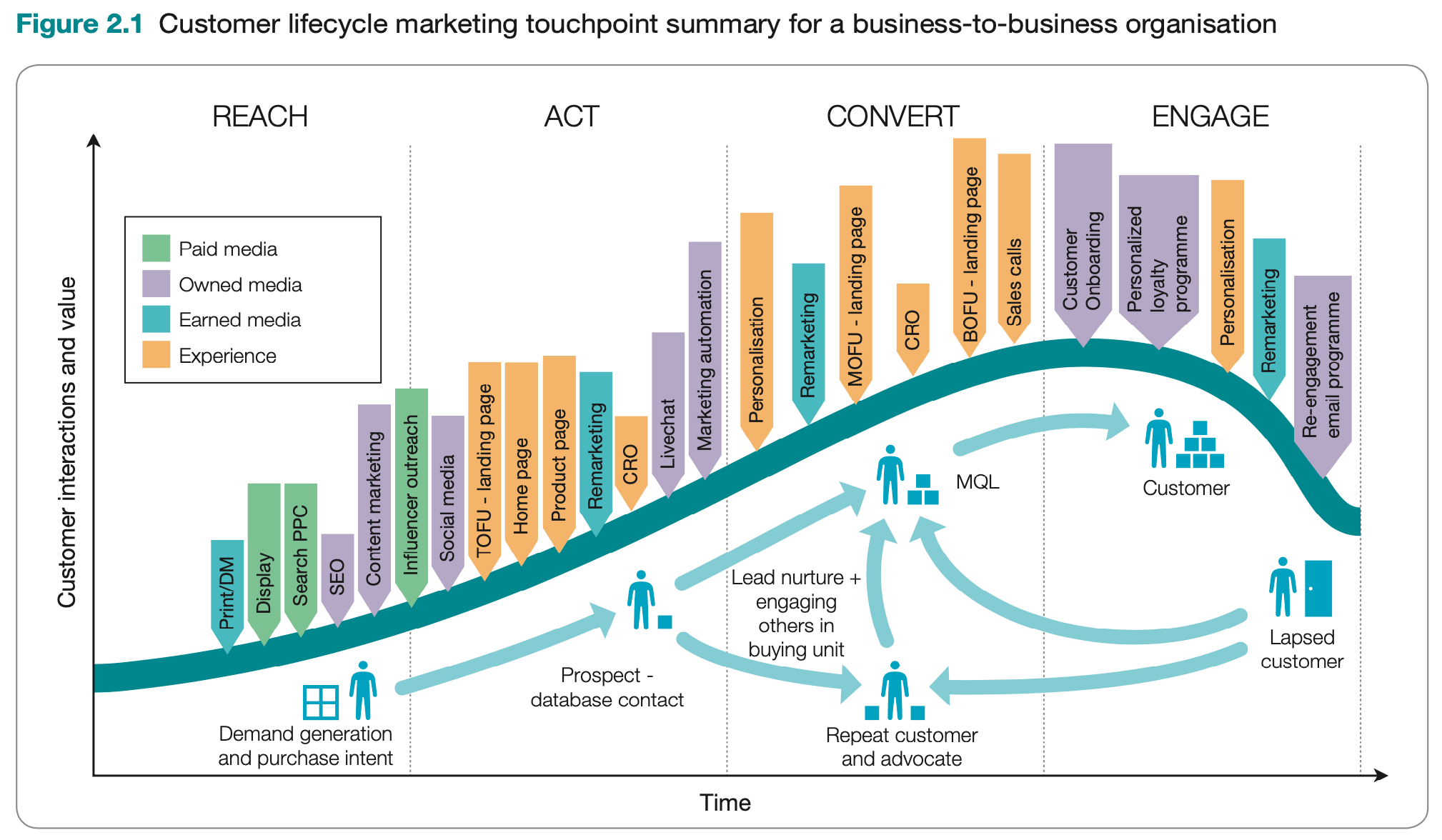 I aim to make the forecast useful for people working in different types of businesses since we find Smart Insights members range from smaller businesses and startups through medium businesses to larger international brands in sectors from retail, financial services, pharma and business-to-business.
To simplify this review of digital marketing trends, we take it up a level from the 25 core RACE activities, to review trends across six digital marketing pillars. We identified these pillars to give business owners and managers a higher level view of digital marketing success factors, all of which need to be invested in to give a holistic approach to digital marketing. In smaller businesses, it may be one person such as the owner or digital marketing manager responsible for all, while in larger businesses there may be one person responsible for for each pillar with many team members. The six pillars essential for effective digital marketing which we will cover are:
1. Strategy and management (or management): Goals – Analytics, Strategy (Segmentation, Targeting, Brand Positioning), integration, marketing and sales alignment, resourcing, structure, skills development and marketing technology.
2. Goals and measurement: Forecasts, digital reporting including KPI dashboards, attribution and customer insight.
3. Media: Paid, owned, earned media including organic and paid search search, social media and display advertising.
4. Content: Content marketing strategy including product and blog content to fuel content marketing, PDF downloads, interactive tools and content distribution.
5. Digital Experience: Desktop / mobile website and apps. Online customer service.
6. Conversational messaging: Email, Chat, Social media, customer service, on-site interactions and personalization.
We will start our trends review with strategy.
1. Digital strategy and planning trends
Digital marketing strategy is vital to success in digital marketing since it defines how marketing budgets are best allocated across the pillars.
The latest research on digital marketing investment from the Gartner State of Marketing Budgets and Strategy in 2022 research highlights the trends in budget allocation amongst larger businesses where:
Marketing allocates more than half its budget to online channels (54% on average).
Within the digital budget, more than 60% is on paid media
There is a fairly even balance between the range of digital media channels as shown in the chart in the media section of this post.
Looking at non-media spend, there is again a balance, in this case between paid, owned and earned media. Insight and analytics also attracts a significant amount of spend.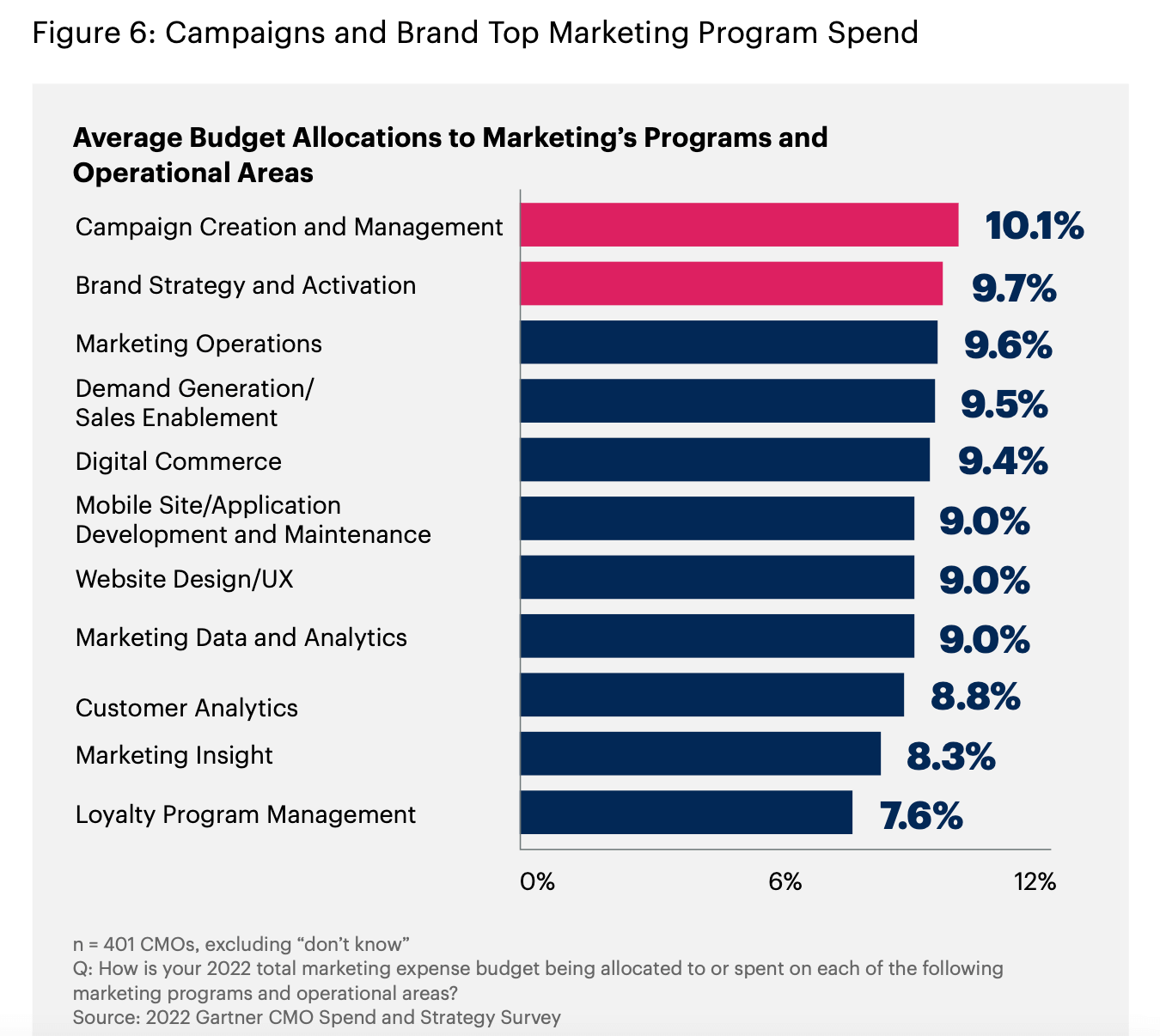 Marketing's resources mix is largely unchanged Year Over Year, with a breakdown of Agencies and Services (23.7%), Paid Media (25.7%), Labour (24.9%) and Marketing Technology (25.4%).
Marketing technology (Martech) trends
Research from Gartner found that according to Chief Marketing Officers (CMOs), typically businesses spend 25% of their marketing budget on marketing technology. It's a surprisingly high amount, particularly since it can be difficult to establish ROI and the research also highlights there is a challenge in using all the features. Gartner explain that
"the 16 percentage point drop in overall martech utilization in the past two years can be attributed to a significant amount of overlap among marketing technology solutions (30% of respondents), difficulty identifying and recruiting talent to drive adoption/utilization (28%), and complexity/sprawl of the marketing technology ecosystem (27%)".
The chart below shows the emerging digital advertising technologies that are being rolled out by large businesses.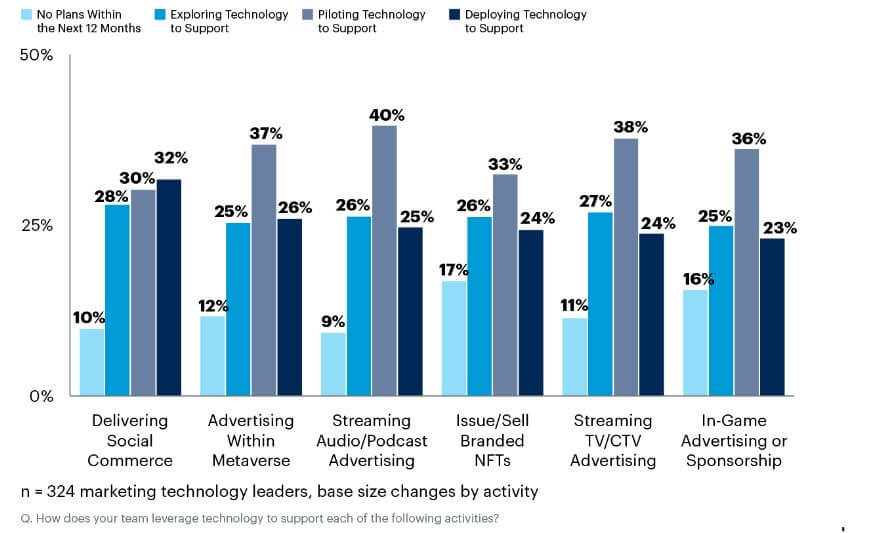 While around a quarter of businesses don't have any plans to roll these out in the next 6 months, the most popular that are being piloted or rolled out are:
Branded non-fungible tokens (NFTs)
Advertising in audio and video streams
Advertising within the metaverse
Social commerce
In-game ads
We rate these as mainly relevant to large consumer brands and less relevant to smaller businesses or B2B organisations. For me, they are interesting, but examples of niche applications that will remain less important than the primary digital media channels such as organic and paid social and search marketing and email marketing.
Digital Insight and reporting trends
We have seen in the previous section that there is a trend to increasing expenditure on business science and data analytics. Artificial Intelligence (AI) and in particular, use predictive marketing analytics is increasing.
The other trend in this area are increased constraints on use of data due to consumer desire for privacy and governments acting to enforce this. In the EU the digital service act is part of this. In the US, many states have now enacted stronger privacy legislation and this is likely to continue.
These laws to protect consumers, can potentially hamper targeting and analysis since they require restrictions on cookies and mobile device IDs, as well as less use of other personal signals like IP and email addresses. This has also led platforms such as Apple and Google to react. Particularly significant is the removal of support for third-party advertising cookies in Google Chrome (now delayed until 2023). This has also involved updates to analytics platforms, in particular, the launch of consent mode in Google Analytics 4 which many businesses will be rolling out in the year ahead before the previous version is withdrawn in July 2023.
Many businesses will be active in migrating their businesses to Google Analytics 4 over the next year. While there are many guides on the technical side of the migration, they don't typically explain the implications of how GA use will need to changes for marketers and marketing teams – I have recently given a Masterclass on Using Google Analytics 4 to improve marketing effectiveness for our Business Professional Members. We are also upgraded our RACE digital marketing dashboard to use Google Analytics 4 with Google Data Studio.
Media trends
At a top level, the media available for marketers to invest in have been stable for many years. In the latest edition of my Digital Marketing: Strategy, Implementation and Practice book I update this visual to show the digital media channel options which are fixed.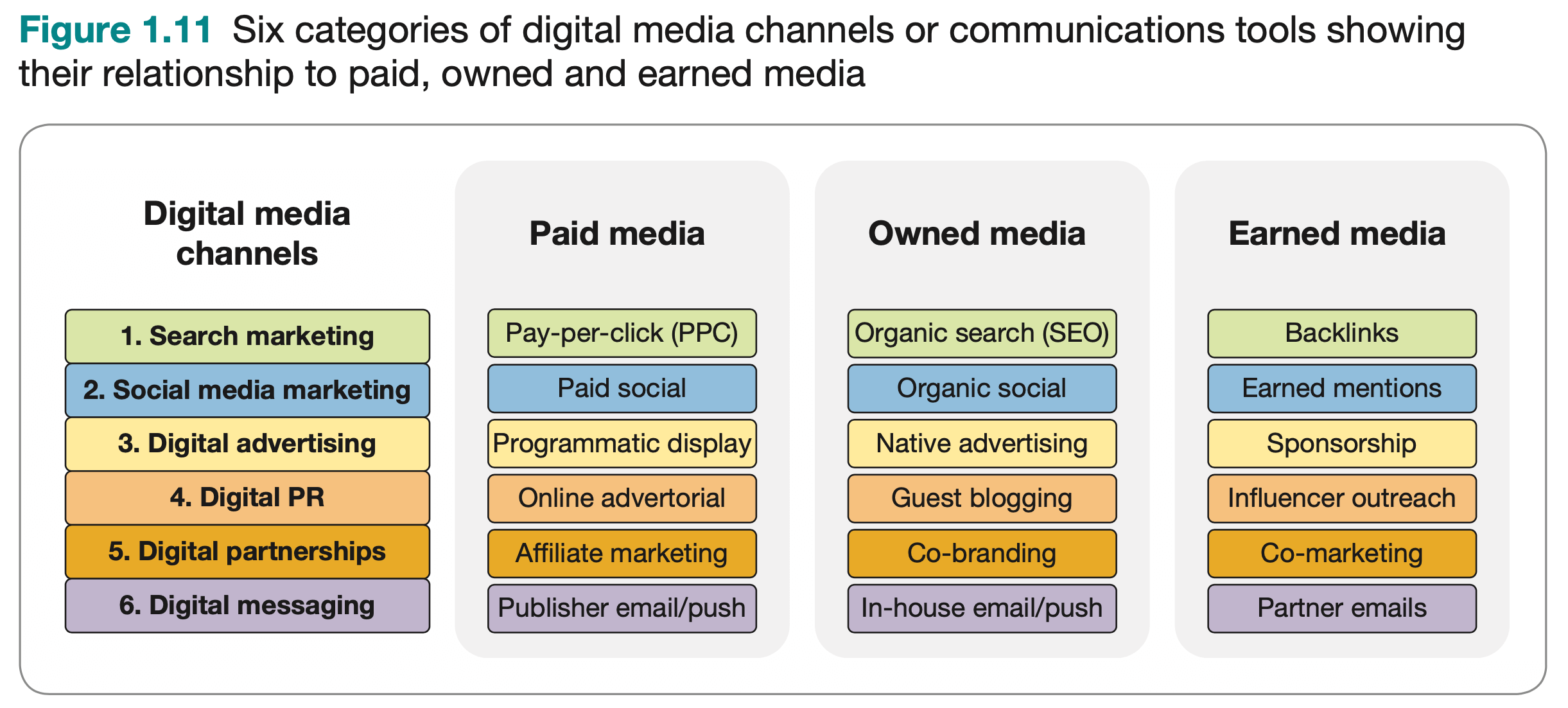 However, the mix between these media has changed. One of the big changes is the increasing need to invest in paid media. With the need for the social media platforms to monetise their platforms and the deliberate restricting of organic reach by the platforms, 'pay to play' in social media is normal. This chart shows that the two largest categories of media spend are paid social and paid search. It's also interesting to see the partner marketing options included – these are referenced to as co-marketing in my chart.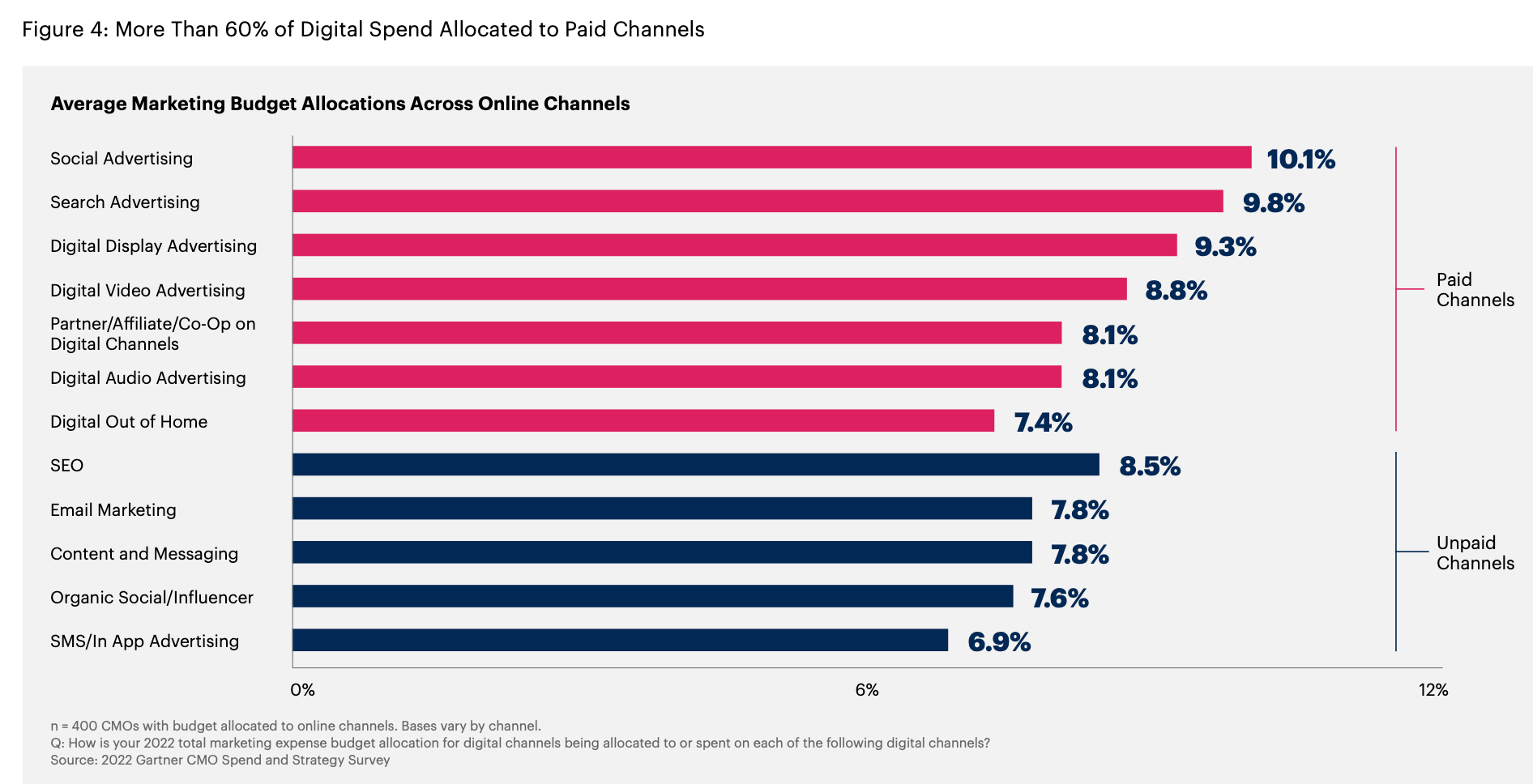 Across the world, the main social platforms such as Facebook, Instagram, Wechat and LinkedIn remain the largest platforms. However, their growth rates are reducing or declining and engagement levels are falling due to lack of novelty and fears over privacy. While they are unlikely to be eclipsed by new competitors, other relatively new networks such as BeReal and Supernova are growing in importance.
Content marketing trends
We have identified content marketing as one of our 6 pillars of digital marketing since it fuels all digital marketing activities including different types of media and supports conversion using the digital experience. In my experience content often isn't managed as the strategic asset it is, which requires a dedicated content marketing strategy and resource.
In Autumn 2022 we are reminded about the importance of quality content by Google's recent Helpful content update which can penalise port quality content. If you have not looked into this, see Google's article: What creators should know about Google's helpful content.
The Content Marketing Institute (CMI) is useful for understanding the latest trends in content marketing. Their latest 2022 reports for B2B and B2C show the content marketing activities that are used by the leaders.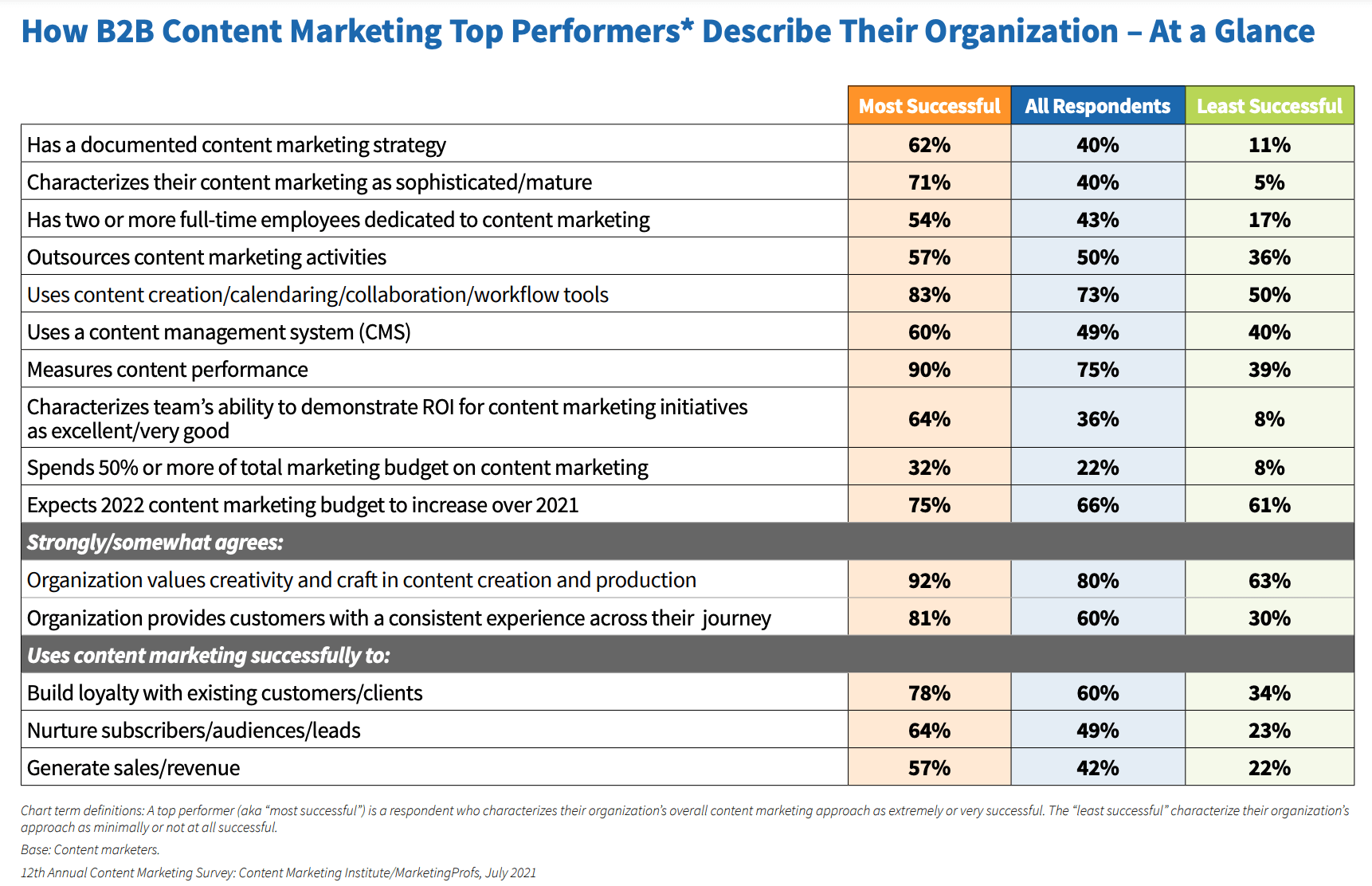 The chart shows that leading businesses have:
A documented content marketing strategy
A measured approach to evaluating content effectiveness
Dedicated resource for content marketing
Current trends in content formats are shown in the next chart which shows the most effective content is still tried-and-tested approaches like webinars, research reports, whitepapers and case studies. Richer formats like video and podcasts are popular, but rate less highly.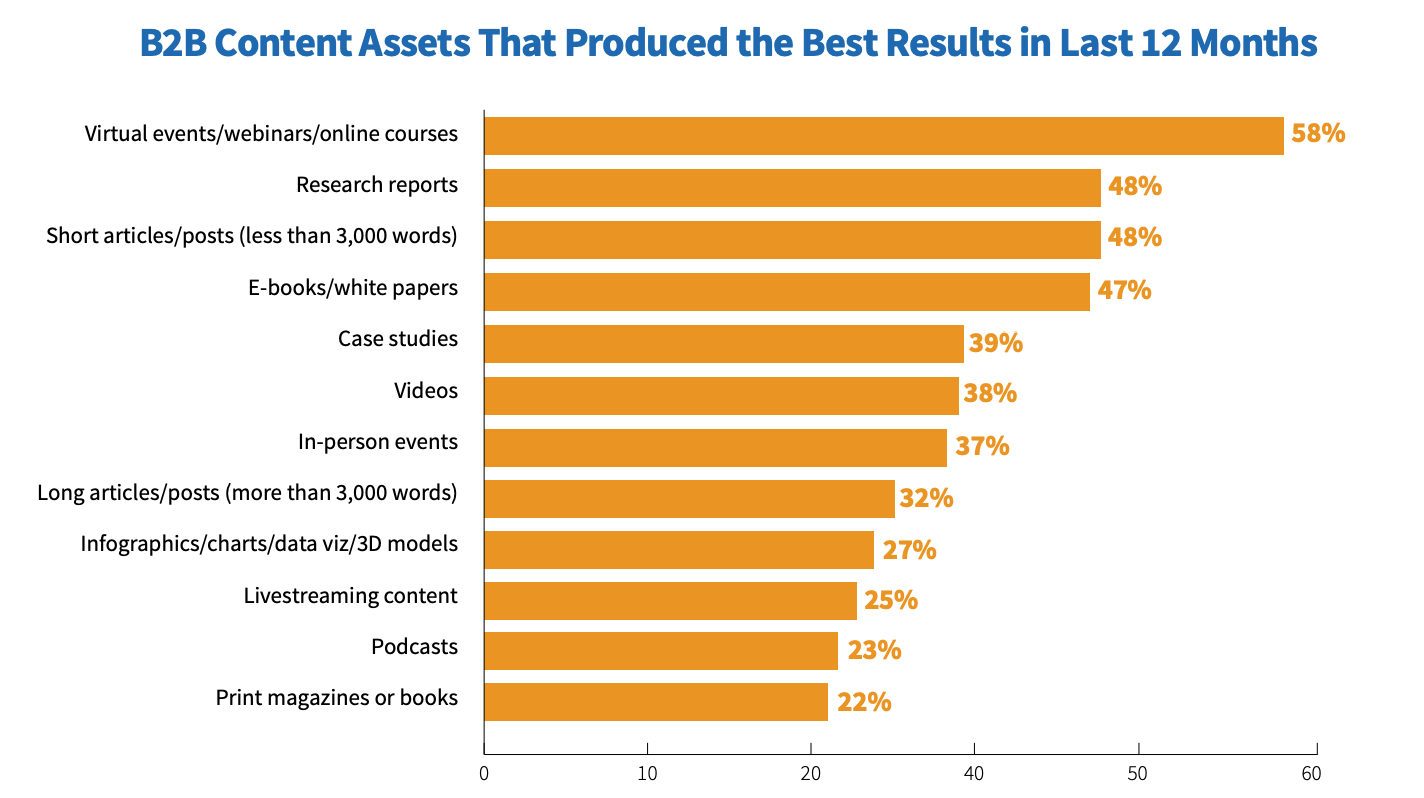 Digital experience trends
Generally, there is a trend to richer, more interactive experiences. The trend is shown by the next figure, also from my book.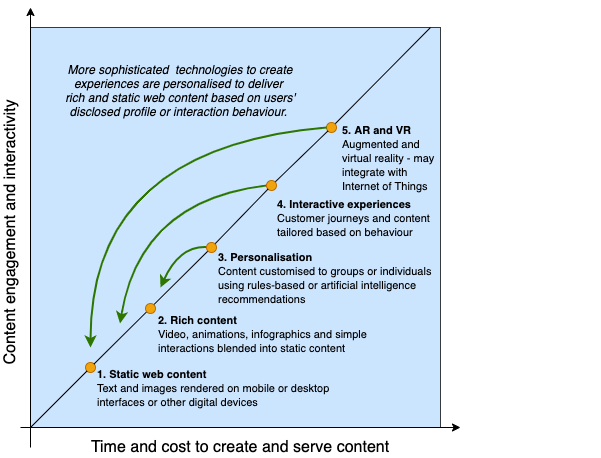 Some of the latest innovations in digital experiences can be seen by reviewing what agencies are delivering for brands. For example, see these client showcases of augmented reality apps for agency Zappar.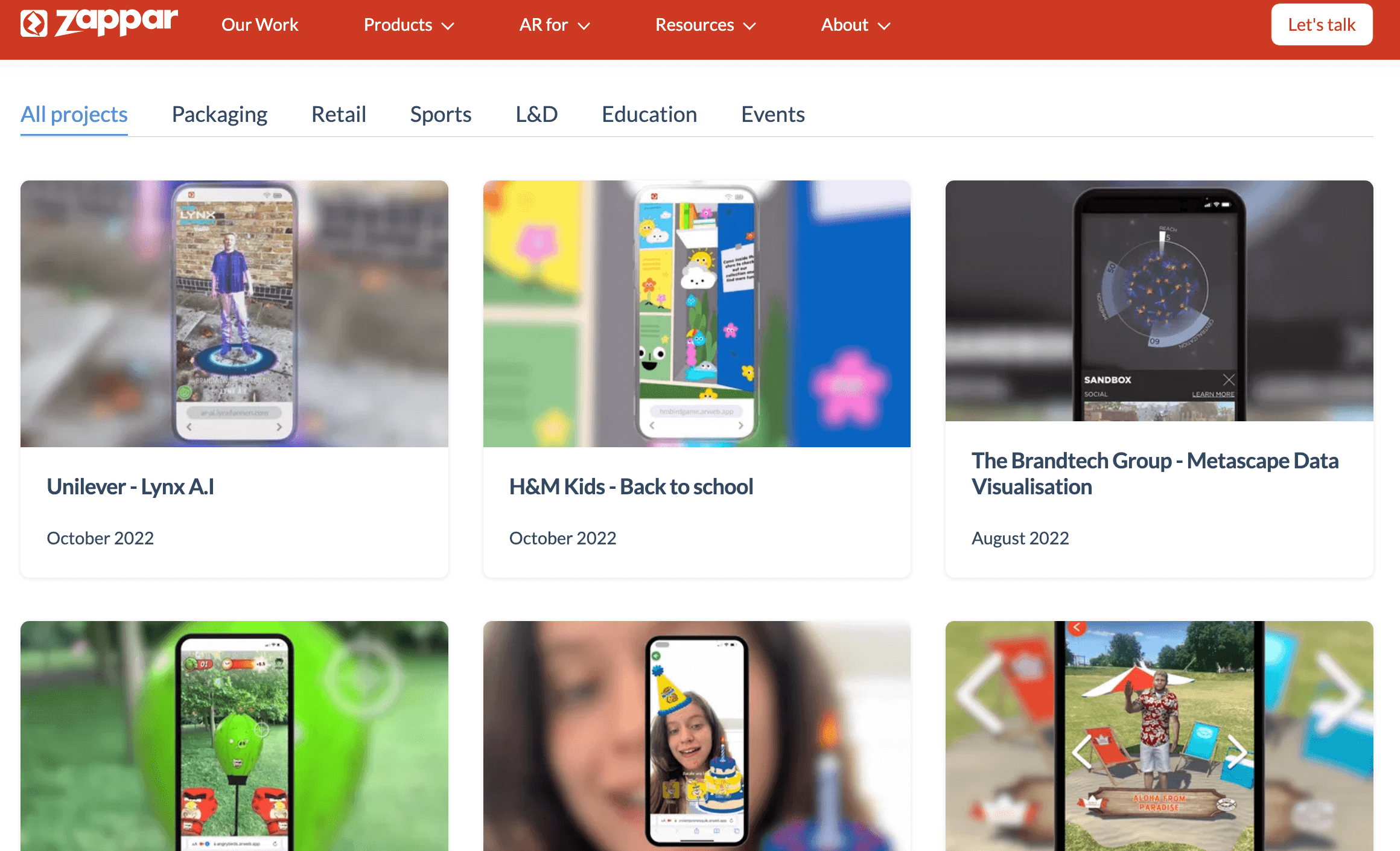 Considering trends in web design, one of the most interesting trends from a communications point-of-view is a reversal of the long standing trend top minimal, simple designs, accessible design which could lack impact and restrict the ability to engage. In this compilation of trends by 99Designs who say:
"Minimalistic approaches have led to a sea of interfaces that (while intuitive) are overwhelmingly uniform. It is no wonder then why many web designers are turning to Memphis design for an explosion of colorful personality no visitor will soon forget.
They give these examples of Memphis Design which show bold typography and imagery can be balanced rather than either taking too much precedence.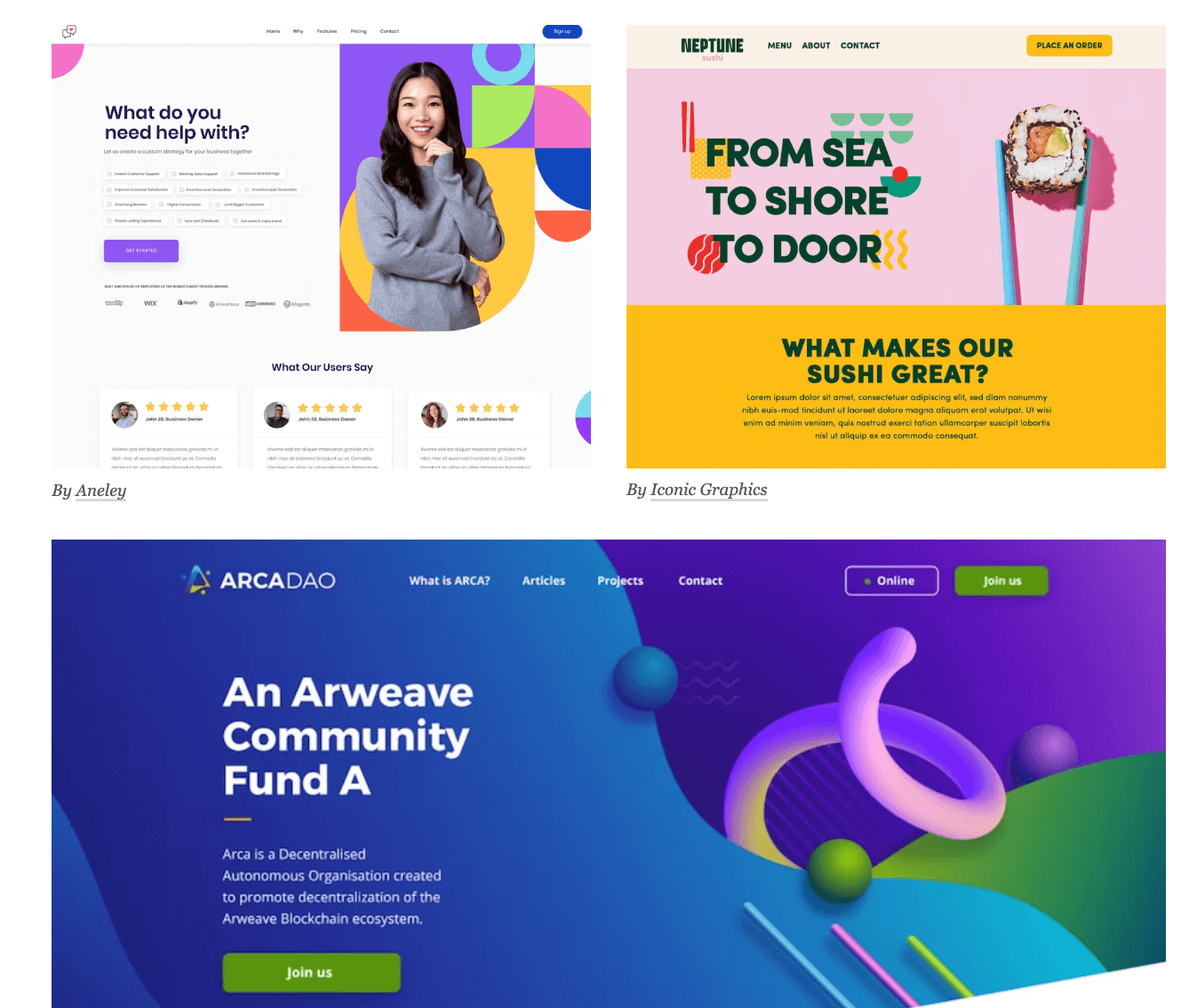 Conversational messaging trends
Our pillars conclude with conversational messaging which warrants a separate category since the importance of messaging is growing and there is a proliferation of techniques as shown by this visual.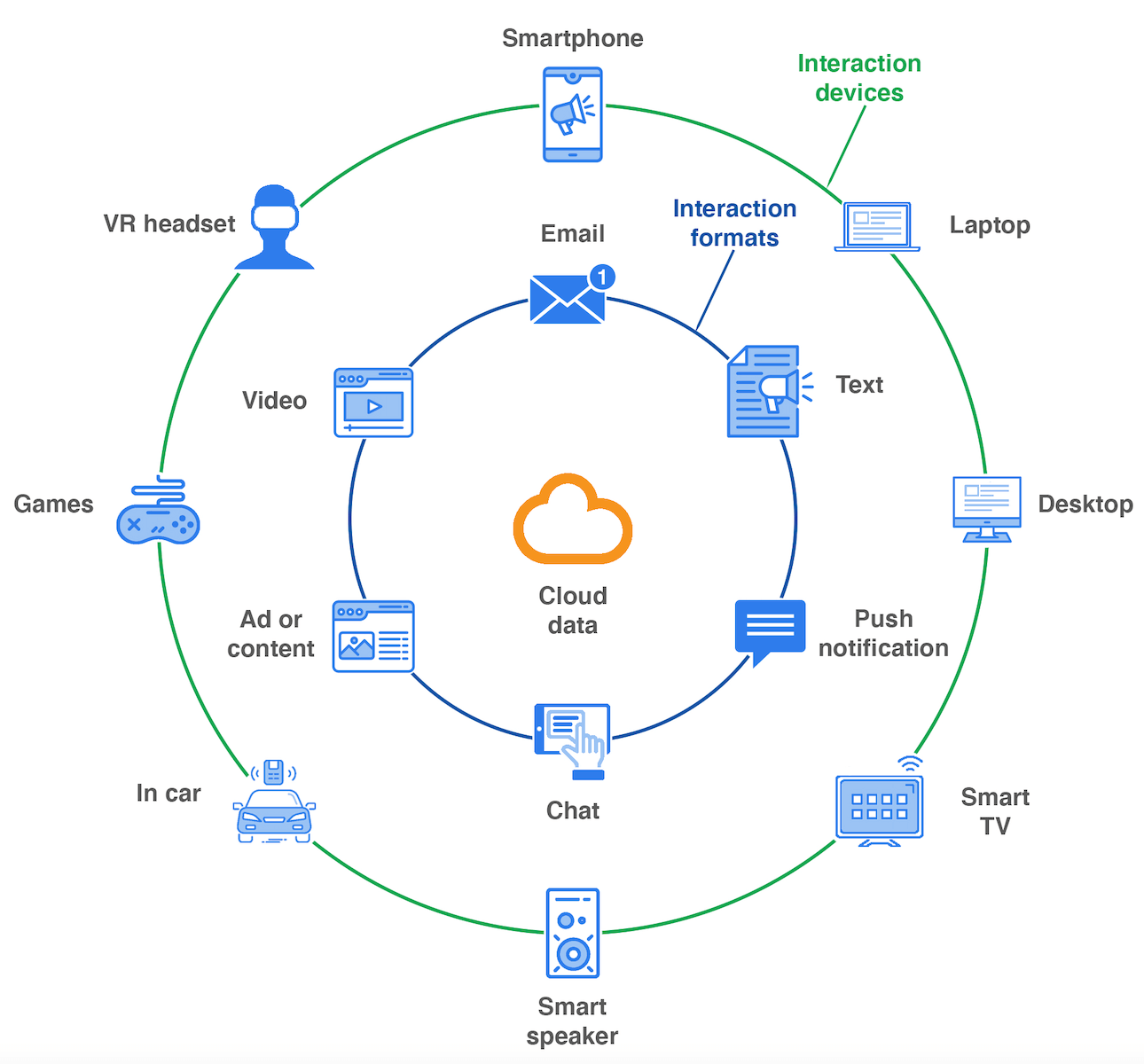 We call the trend 'conversational messaging' rather than 'messaging' since it was coined by Gartner who explained the value of rather than using simple 'push messaging', we should try to encourage interaction and dialogue through messaging:
"Conversational marketing technologies enable interactions between companies and customers that mimic human dialogue and do so at scale."
In terms of practical tools to support this, Email, SMS, Mobile notifications, Chat, Social media retargeting, on-site interactions and personalization are common and well-established techniques. Their power is suggested by this visual which shows the opportunities to use 'sense-and-respond' communications to interactions across the Smart Insights RACE customer lifecycle shown at the start of this article.
Email and mobile messaging, social retargeting and on-site personalization are all established techniques here. Newer developments involve text and voice-based chat using AI and bots. For business-to-business marketers, tools like Intercom and Drift that bring together personalized promotions, a knowledge base and chat with a bot or employees help integrate these techniques both for prospect nurturing and customer onboarding. In business-to-consumer marketing, Facebook Messenger and Whatsapp are being used increasingly to implement these features. An interesting service similar to Intercom is Qualified which seeks to identify 'VIP' visitors and then automatically route visitors to their assigned reps as soon as they land on the site site. Immediate action is prompted with notifications across channels like Slack, Microsoft Teams, Qualified Mobile, or email.
So, that is my assessment of the trends for 2023. Across the six pillars, there are certainly opportunities to improve and compete. Our RACE Growth System template will help give you a measured, structured approach to take advantage of the opportunities from digital marketing.